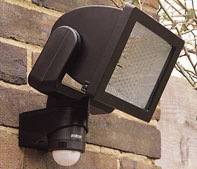 Security Lighting is a proven deterrent against crime. Darkness provides concealment for the criminal. He/she is unlikely to be seen, unlikely to be identified and unlikely to be disturbed.
Security lighting for the home can be combined with domestic use.
A typical  installation would include a 300w PIR activated floodlight fitted to the front of the house, switching on automatically when a person approaches the house or driveway. The light will switch off automatically after a pre-set time.
The rear of the property should be fitted with one or more 500w PIR activated floodlights.
These lights and detectors will be angled to detect persons approaching the rear of the property, switching the lights on and off automatically.
GJD DigiZone Digital 4 Zone Lighting System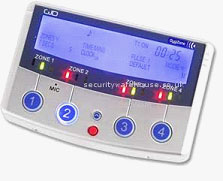 We can also supply and install the digizone 4 zone lighting system which is  programmed and controlled via a small keypad which is very simple to use, keypads can be installed at various locations (a key pad on the ground floor and a key pad on the first floor at a convenient location). Another useful feature of the override switch is that if the occupier is having a garden party or barbecue light can be left on. In addition to this the lighting can be programmed via a keypad to come on and off at pre set times giving the impression that someone is home.
In some areas around the home it may be desirable to have some low wattage energy saving lights to be left on during the hours of darkness. This is achieved by installing a photo electric cell unit into the lighting system, which automatically switches the light on from dusk till dawn.
Lighting is also essential for CCTV systems and can also be integrated into your  intruder alarm system. In this case if the intruder alarm is set off a floodlight can switch on automatically. This will also be helpful for key holders or gardai attending the site.