AES CCTV & Security offer a full range of Intercoms, there are three main variations available, Wired, GSM & Wireless Intercoms. Learn more about their benefits below.
Wired Intercoms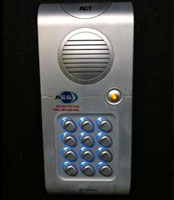 Wired intercoms requires a cable run from the gate to the property to where the handset is located. Callers can speak to the user who can open the gate or door to allow access to the property. Wired intercoms are available in audio, with or without a keypad, or video with or without a keypad.


GSM Intercoms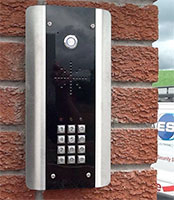 GSM Intercoms requires no wires, only power is required at the gate or door of the property where the GSM intercom is to be installed. GSM intercoms use a SIM card the same way as a mobile phone does. When the call button on the a gate or door station is pressed, it makes a call to a designated mobile phone or landline number. The user can then speak to the caller on their mobile phone and by pressing a key on their mobile device the user can open the gate or door. Most of our GSM Intercoms can ring up to three designated phone numbers in succession. With our GSM Intercoms it is possible to store up to over 100 phone numbers so the users can call the gate or door at no cost to open it from anywhere in the world. This handy feature can replace small handheld remotes that can be easily lost or damaged and can be costly to replace if a large number of remotes are required. Phone numbers can be added or removed as required simply by sending an SMS text message to the GSM controller. GSM intercom access control can be added to most existing gate systems with very little installation. It is important to mention that with GSM intercoms a good phone signal is required at the gate or door location and also in the property where the call will be received.


Wireless Intercoms
Wireless Intercoms make a call from the intercom caller station at the gate or door to a cordless handset located in the property. When the gate or door user answers the call they can speak to the caller and grant access by pressing a button on the handset. Wireless intercoms are available with or without a code lock keypad and are also available with video if required. With most Wireless intercoms it is important to have line of sight in order for proper working of the intercom. It should also be noted, there is a limited working range with wireless intercoms, AES CCTV can discuss the best option for your premises before installation.