The type of alarm you choose is important!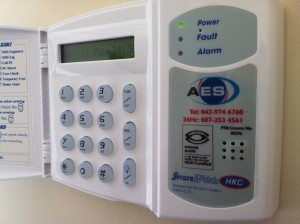 Bells only alarms deter intruders and may alert the neighbours but will not give you an automatic police response. 'Remotely monitored alarm' where activation signals are sent to a monitoring centre, ensures that the gardai are contacted on your behalf in the event of a confirmed signal. Signals are filtered for false activations, avoiding the risk of losing police response to your alarm.
All commercial alarms are custom designed to suit the Site & Clients needs. Industrial grade motion detectors are used to ensure the system is free from false alarms and has the best detection in a real event. Systems can incorporate Access Control and CCTV systems if required. We cater for small shops to commercial complexes covering many areas. Commercial systems can range from just a few detectors up to hundreds of detection points for larger sites. We can comfortably provide for your needs no matter what the size.
We only supply the finest alarm systems on the market. The superior quality and attention to detail during installation means that our systems rarely need attention beyond programmed maintenance. However should the need arise; all our technicians vehicles carry an extensive range of spare parts to allow us to have your Security system working at peak efficiency 24 hours a day. Call us today on (042) 9746760 for a free security quotation.