CCTV Monitoring is the external monitoring of your CCTV System from a 24/7 manned facility – providing detection and intervention when an intruder is detected in or around your building or property.
Monitored CCTV works by remotely accessing your CCTV System once triggered, following an activation the monitoring station can view your premises live, give would-be trespassers an audio alert to warn them off and alert the Gardi if necessary.
The Benefits of Remote CCTV Monitoring: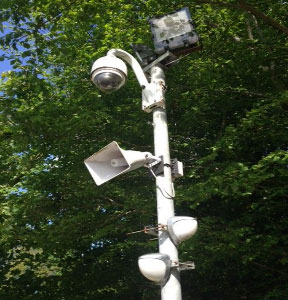 24/7 monitoring of your premises 365 days a year
Save money by reducing the need for on-site security guards
Increase response times following Alarm Activations
Prevent damage to the property
Visual variations of intruders which can be passed onto the Gardi if necessary
Protects staff and employees
Intervene quickly to prevent crime/vandalism from occurring
Can decrease insurance premiums
How CCTV Monitoring Works
Detectors
We fit long range external detection devices to trigger the system when there is an intrusion outside working hours. In the event of intrusion detection the scene appears immediately on the screen in the monitoring station and the appropriate action is taken.
Cameras
Cameras are fitted to view the area covered by the detection devices in order that our control room staff can view the intruder.
Speakers
Speakers are fitted in the protected area to order the intruders of the site and explain to them that we can see who they are and that the Gardi have been notified.
Transmission, Receiving and Recording equipment
using a broadband and transmission unit the control room staff can view remotely the protected area. Warn off intruders and then playback events. Events can be recorded both locally or remotely.