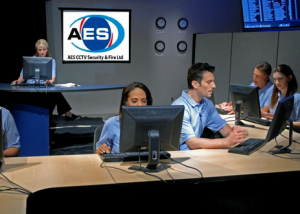 AES CCTV Security & Fire Ltd know how important it is to protect your home and your family or business at all times – that's why we always recommend 24 hours a day monitoring for our range of house and business security alarms. Without monitoring, you are dependent upon a neighbour or passer-by to inform police or fire officials if an emergency situation occurs. Despite the perception that burglaries are committed in the evening, in truth, the majority of burglaries occur during the daytime when homeowners are away at work. Who will be around when your alarm sounds? Like car alarms, burglar or fire alarms can be easily ignored. Critical time can be lost, resulting in devastating damage to your home and the loss of precious possessions.
Alarm monitoring service ensures that your intruder alarm won't be ignored. This is because you're connected to our NSAI Approved Alarm Receiving Centre via your phone line or GSM Mobile phone network giving you added security, 24 hours a day. What's more, you're not just protected from burglars; we also help you obtain emergency support when faced with a fire or if you need the assistance of a key holder.
With a monitored alarm more than 65% of faults can be resolved by remote diagnosis and reset without the need for an Engineer to attend, saving the owner time and money.
Most insurance companies recommend a monitored alarm – EN50131/ & Garda compliant.
How much does it cost?
You can have your home Monitored 24/7 365 days for as little as €15 per month.
SMS Alerts
Our intruder alarm systems can be installed with a unique feature that sends an SMS text message to your mobile phone to alert you to activations from your AES security alarm system.For more info or a no obligation home alarm survey contact us today on 0429746760