Fire Alarm Systems fall broadly into two groups – Conventional Systems or Analogue Addressable Systems.
Conventional fire alarm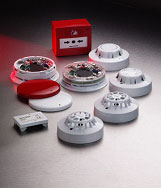 From small shops & offices to medium sized buildings, conventional fire alarm systems are a cost effective way to ensure you have a means of detecting & warning of fire. Numerous detectors can be installed on zones, when a detector is triggered the fire alarm control panel will indicate which zone has been triggered, giving you or the fire brigade an indication of the area of activation.
We can connect conventional fire alarm systems with other fire alarm panels on your site or install communicators which are monitored by our Alarm Receiving Centre (ARC) ensuring a rapid response from the emergency services
Addressable Systems
This type of fire system is state of the art & is highly intelligent. If a detector is triggered it gives a text read out of exactly where this unit is e.g. "smoke detector 17 managers office". The main advantage of this system is for large buildings where a detector on a conventional zone may take some time to find. Some examples of where addressable systems are used are: Hotels & Hospitals, large factories & warehouses, schools & colleges, nursing homes, complex offices & multifunctional buildings.
Remote Monitoring
Having the right fire alarm in place is your first priority but great consideration should be given to the response to an alarm out of working hours. For a small fee we can connect your fire alarm system to our Alarm Receiving Centre (ARC), this will ensure that the Fire Brigade or a third party is contacted at all times helping prevent a catastrophe happening when your building is empty.